FROM THE DESK OF
DANE SPOTTS
Dear Fellow Mind Warrior,
I have something important to say to you and that is a sincere THANK YOU. 
Not just because you are participating in our mind development programs and supporting the Mind Warrior Project, but because by becoming one of "us" (a mind warrior) you are embarking on a journey of self discovery that will change everything. It will not only allow you to see and experience the world in a new way, but YOU will affect everyone you come in contact with. This is how we change the world. Not through politics or social engineering, but one evolved individual mind at a time. 
Each of us…experiencing being alive to the fullest extent possible and spreading personal joy and possibilities with everyone we come in contact with, really does change the world for the better. Don't want to get too mushy here – so let's get to it. 
Here is my promise to you. You will be totally blown away from your very first week – and if you follow the instructions provided and honestly work these programs,  you will see how powerful it is –  and how it affects your life and the lives of others around you. Today begins a whole new world of possibilities and opportunities, that will open to you in ways you never imagined were possible. I mean it. Read what others have experienced. 
Oh, and we are constantly adding new content every week. New audio programs, books, courses, podcast episodes and special reports. It's all about the mission of being a Mind Warrior and making our lives the best they can be. If there is anything you don't like or you would like to see added… just let me know. I'll make the necessary changes. After all…we are all on this journey together. 
Thanks for your support. You are helping us fund new development and research, and continue our mission to change the world – one mind at a time.
All My Best,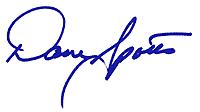 Dane Spotts
Founder & Fellow Mind Warrior
Discover Your True Inner Power